Elan Financial Services offers corporate and virtual credit cards and payment services that help minimize costs, enhance oversight and control, and optimize cash flow.
If you recently received a new credit card from Elan, you need to activate it at myaccountaccess.com/activate before using it for any purchases and payments.
To activate the Elan credit card, you need your account login credentials (login id & password), card numbers, and the last 4-digits of your SSN.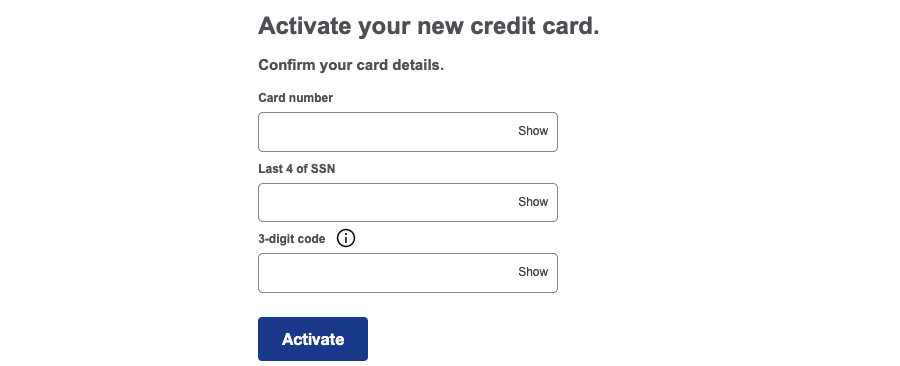 Myaccountaccess/activate – Activate Your New Credit Card
Follow these simple steps to activate your newly issued credit card online:
Visit myaccountaccess.com/activate on a computer or mobile device.
On the activation page, enter your Card Number, the Last 4 Digits of your SSN (Social Security Number), and the 3-digit code (security code on the card) in the prompted field.
Next, click on the Activate button.
Go through the given prompts to complete the activation process on the following screen.
That's it. Your Elan Credit Card is now activated and ready to use.
Activate Elan Card using Online Access
You can also easily activate your Elan Credit Card with online access by following these steps:
Go to the Online Access sign-in page.
Enter your Personal ID and click CONTINUE.
Then, enter your password and click Sign In. 
Once logged in, locate and navigate to the Service tab.
Under the Services tab, select the Card Activation option.
Provide the required information and follow the on-screen instructions to activate your Elan Credit Card.
---
Why should I need Credit Card Online Access?
You can activate your credit card at myaccountaccess.com/activate without having online account access, however, if you create one, you can easily manage your card, pay your credit card bills, and check your statement.
Follow the instructions provided below to create online account access –
Visit the online access sign-up page.
Enter your credit card number, 3-digit security code & last 4 digits of the SSN.
Now, select one of the options to verify your identity –

Zip code
4-digit PIN (If you don't have the PIN, contact the cardmember service number)

Then, create a Personal ID and password. You can also enter your email address, but it's optional.
Once you provide all the required information, click the Submit button.
Then, complete the remaining on-screen prompts to complete the sign-up process.
Your Credit Card Online Access is now active.
Important Notes:
Personal ID must be 7-22 characters in length, comprising numbers, letters, and special characters without spaces.
Password must be 8-24 characters in length containing at least one letter, one number, or special characters without spaces and three of the same characters in a row.
---
Frequently Asked Questions
How to recover my Personal ID?
If you don't remember your Personal ID, you can recover it by following these instructions:
– Go to the sign-in page.
– Click on the "Forgot your Personal ID?" option.
– On the next screen, provide your Credit Card Number, 3-digit security code, last 4 digits of SSN (Social Security Number), and ZIP Code in the relevant fields and click the SUBMIT button.
– Then, complete the remaining on-screen prompts to recover your ID.
How to contact customer support to report a lost/stolen card?
If your credit card gets lost or stolen, you can contact customer support at 800 558 3424. Alternatively, you can reach Cardmember Service via email by signing into your account and using the Messages option.
How to seek assistance with browser configuration and technical support?
For any questions or queries related to internet browser configuration or technical support, please call 877 334 0460.
How do I make the payment through the mail?
If you wish to send a payment for your card, you can make the payment at the following address.
Cardmember Service, PO Box 790408, St. Louis, MO 63179 0408
Also, if you wish to send an overnight payment, you can send it to the following address:
Cardmember Service, 824 N 11 Street, St. Louis, MO 63101 1016