Activate
Discover.com Activate New Discover Card Online [2023]
Owned by Discover Financial, Discover is a credit card service that is mainly operational in the USA. This credit card brand is known for not charging an annual fee and offers customers a more than-usual credit limit. In addition, the Discover card is also known for innovating cashback bonuses on purchases made by customers using the card.
Discover offers a variety of credit cards to the users, such as Cash Back, Travel, Student Cash Back, Secured, Business, NHL, Student Chrome, and Gas & Restaurant Card.
If you recently received any of these cards, you need to activate your Discover card online at discover.com/activate or by phone at (800) 347-2683. Once activated, you can use the card for online and offline purchases.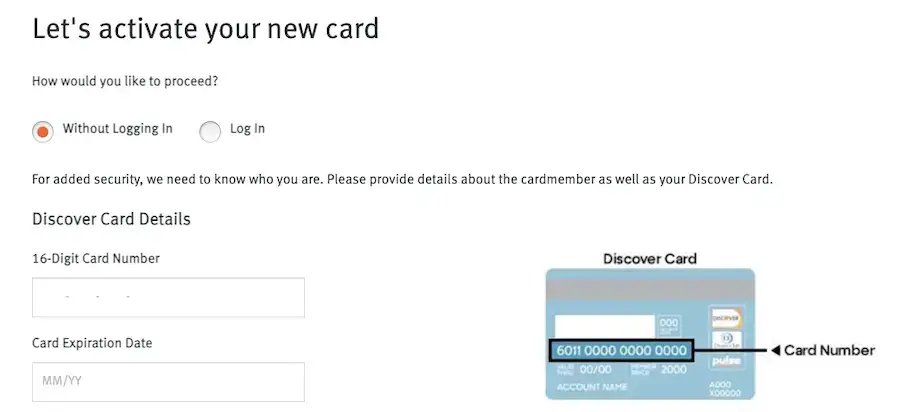 To know how to activate your Discover Card, go through the instructions below.
Guide to Activate Discover Card Online at discover.com/activate [2023]
The online method is the easiest and most reliable way to activate your Discover card. You can either log into your account using the Discover log-in credentials or use the card details and personal information to activate the card.
To activate your new Discover card online, you must fulfill the below requirements first –
Primary cardholder's date of birth and last four digits of SSN
16-digit card number
Discover card expiration date
Security code (3-Digit Sequence ID)
A computer or mobile device to access discover.com activate URL.
Follow the steps below to activate your Discover card with or without logging in –
Discover.com Activate Without Logging-in
Don't have the Discover username and password? You can still activate your card with the following steps:
Visit discover.com/activate on a computer or phone using a web browser.
Select the Without Logging In option.
Enter your Discover card details – 16-digit card number, card expiration date (MM/YY), and 3-digit Sequence ID (on the back of your card).
Enter the primary card member details – Date of Birth (MM/DD/YYYY) and last 4 digits of SSN.
Enter the CAPTCHA and click Continue.
Stick to the on-screen instructions, and your Discover Card will be activated instantly.
Discover.com login to Activate your Card
If you have the Discover.com login credentials, refer to the steps below for a hassle-free activation process.
Open Google Chrome on your computer or phone and visit discover.com/activate.
On the Discover card activation page, select the Login option.
Enter the login credentials – User ID and Password.
Type the 3-digit sequence ID followed by A.
Select Image Captcha or Audio Captcha.
Enter the CAPTCHA and click Continue to activate your Discover card.
After successful activation, you can immediately use your Discover card.
How to Activate Discover Card Over the Phone
No matter which language you speak – English or Espanol – you can activate your Discover card by dialing the customer service number 1-800-347-2683. This number is valid if you call within the United States.
Dial 1-224-888-7777 if you are outside of the U.S. After dialing the number, stick to the on-call prompts and give in the required details when asked.
---
How to Register for a Discover Card Account?
If you don't have a Discover card account, you can create one for online access by following the below directions.
Access the Discover Credit Card Registration page.
Enter the 16-digit card number and expiration date.
Provider the DOB and last 4 digits of SSN of the primary cardholder.
After providing the above details, enter the CAPTCHA and click the Continue button.
On the next page, type your personal information like your First Name, Last Name, Email Address, and Password.
Click the Register button.
Your Discover card online access is now active. You can use the discover.com login credentials to manage your card, check statements, make payments, etc.
---
Frequently Asked Questions
How to activate multiple Discover cards?
If you receive multiple cards, you have to activate each card separately at discover.com/activate. The online method is the most effective option to activate your Discover card.
What information do I need to activate my Discover Card?
You will need your card details, SSN, and DOB to activate your card.
Can I activate a Discover Card by sending a message?
Apart from dialing the number, you can send a message to activate your card. First, go to the contact us page and select the Send Message option.
How can I activate Discover gift cards?
To activate a Discover gift card, visit the online activation page or call Discover customer service at (866) 522-7026.