Riz Ahmed is having a big year. Actually, make that a momentous year. In February 2021, Ahmed earned an Oscar nomination for his work starring in the movie The Sound of Metal, becoming the first Muslim individual to receive a nomination in the Best Actor category. The 38-year-old British-Pakistani actor plays Ruben, a heavy metal drummer who experiences unexpected hearing loss, in The Sound of Metal.
Ahmed's personal life appears to be thriving, too. During a January episode of Louis Theroux's podcast "Grounded," Ahmed, 38, revealed that he had gotten married during the pandemic. Three days later, while speaking to Jimmy Fallon on The Tonight Show, Ahmed revealed his wife's name: Fatima Farheen Mirza, a 30-year-old bestselling novelist.
The proposal fits into the literary theme. Ahmed told Jimmy Kimmel on Jimmy Kimmel Live! that he asked Mirza to marry him using Scrabble tiles. During a picnic, Ahmed said, "I did that corny thing where I stole all the correct letters up and spelt out will you marry me?'" Mirza first responded, "You're joking," but then said yes.
The Academy Awards, which took place on April 25, was the couple's first public appearance. Ahmed fixed Mirza's hair on the red carpet, referring to himself as the "official groomer." You may be able to find the same content in another format, or you may be able to find more information, on their website.
Riz Ahmed pauses the #Oscars red carpet to fix his wife Fatima Farheen Mirza's hair: "I'm the official groomer" https://t.co/QrBqZ8y6n1 pic.twitter.com/YAGv6ut7Eu— Variety (@Variety) April 25, 2021
Here's what we know about the highly talented couple, who has literary awards and an Oscar nomination between them.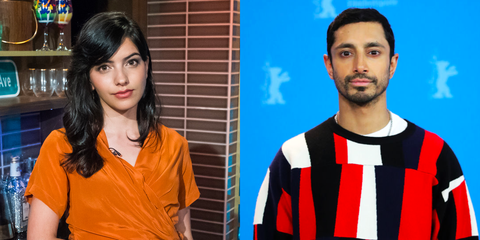 Fatima Farheen Mirza is the best-selling novelist of A Place for Us.
In 2018, Mirza's debut novel A Place for Us became the first book published under Sarah Jessica Parker's new imprint, SJP for Hogarth. Clocking in at 400 pages, A Place for Us is a modern epic about an Indian-American Muslim family. The novel opens at a wedding in which the family's prodigal son, Amar, returns, and switches through time and perspective to tell their individual stories.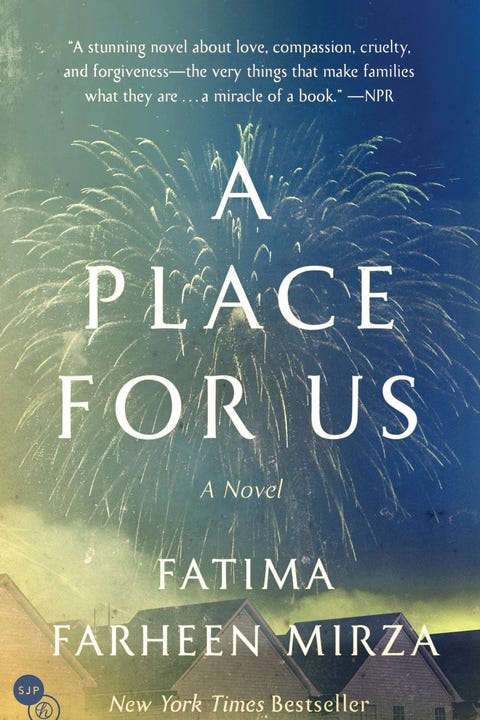 Ahmed described his wife as an "amazing" novelist while speaking to Fallon, and critics agree. The book was an instant New York Times bestseller. In 2020, Mirza was named a 5 Under 35 honoree by the National Book Foundation. And to think: She almost went to medical school.
Speaking to The Guardian, Mirza explained she had enrolled in pre-med classes at her father's behest, before switching to creative writing. After graduation, Mirza attended the Iowa Writer's Workshop, one of the country's most prestigious MFA programs. She described the book, set among a close-knit family, as "a long love letter to the life that was mine right until I started writing it."
"It's through the novel that I can understand that dynamic between the individual and their greater community with so much more complex than when I was in it. It's helped me understand where I've come from and who I am and what is important to me," Mirza said.
She was raised in California by parents of Indian descent.
Riz Ahmed Wife, Mirza was born in 1991 in California, where she was raised. Her father hails from Hyderabad, India, and her mother was raised in Birmingham to British-Indian parents, per The Guardian. Mirza is the oldest child in her family and the only daughter.
In a Reddit AMA, Mirza shared some insights about how she balanced her desire for autonomy in her love life with what her parents wanted for her, in response to a reader's question.
"My parents no longer send me "suitable candidates" but that is an understanding we came to after many years of back and forth and conversations in which I asserted how I envisioned my life and my relationships. It was not always easy and the pressure you are feeling is real, and sometimes it is impossible to separate the two—do I want this because I genuinely want it, or because the people I love want it? Do I like him because of him, or because it is tied up in wanting to make my parents proud and happy? These are some of the toughest questions you may ask yourself, and answering them can lead to more questions than answers," Riz Ahmed Wife, Mirza said. Answering those questions led her to Ahmed, apparently.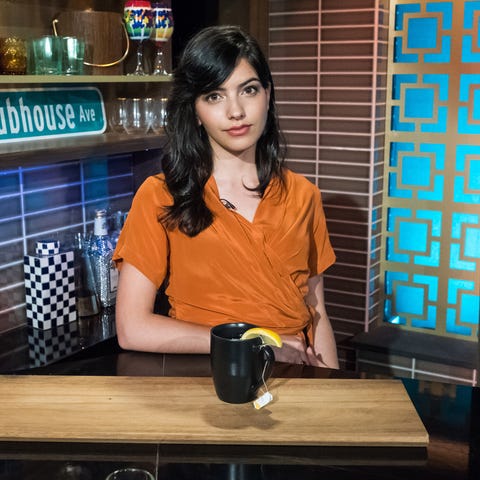 Riz Ahmed Wife, Mirza
Mirza bonded with Sarah Jessica Parker over her first novel.
Since A Place for Us was the first novel published under Parker's imprint, the two developed a close relationship. Speaking to Electric Literature, Riz Ahmed Wife, Mirza called Parker "one of the most remarkable people [she's] ever met."
"Every time we've spoken about the novel I've had the thought that she is the ideal reader a writer might want for their book because she reads with her whole heart — she's thoughtful, insightful, and so precise in her observations. It's clear that she cares about the characters as though they were real people and that she reads books as though she's lived in the…She's really been there for me, and her presence, her kindness — it has made publishing this novel a truly meaningful and unforgettable experience," she added. This content is imported from Instagram. You may be able to find the same content in another format, or you may be able to find more information, on their website.
Ahmed and His Wife, Mirza's meet-cute is something out of a romance novel.
An acclaimed actor and a literary star walk into a coffee shop. Sparks fly. During his appearance on The Tonight Show, Ahmed revealed he met his future wife at a coffee shop in Brooklyn, where Mirza lives.
"We met so randomly, while I was preparing for Sound of Metal when I was in New York. We just both sat down at the same table in a cafe, where we both turned up to write. We were both jostling over the same laptop plug points, like a very modern way of meeting."

He added, "We struck up a friendship and then we reconnected down the line. But it's weirdly one of the many things about preparing for this role that was so special. It just brought a lot of goodness into my life."
Riz Ahmed Wife, Mirza boxes in her free time.
Speaking to The Guardian, Mirza revealed that she had taken up boxing as a way to decompress. "Not only is boxing a really fun way to exercise, but it also feels like I'm allowing a younger version of myself to have what she wanted then," Mirza said.
In 2019, Mirza published an essay in Granta that elaborated on the link between her current love for boxing with her desire, as a girl, to have the same freedoms as her brothers and male family members. This content is imported from Twitter. You may be able to find the same content in another format, or you may be able to find more information, on their website.
For years I didn't have the courage to write about the topics in this essay& it was so hard& freeing to try. "BOXING" is about how girls are taught to relate to their bodies, growing up hijabi & never seeing examples of hijabi athletes,& the joy of boxinghttps://t.co/27EIxgqDSv— Fatima Farheen Mirza (@fatimafmirza) June 18, 2019
"Sometimes, when I'm boxing and locked in a flow, a wave of old anger rises in me and I recognize it at once. It is the same anger I swallowed when I watched the boys lace-up. Or when I looked back at the pink boxing gloves. When I watched men moving through the world with such ease, with so little to stop them, bewildered by what they chose to waste their freedom on," Riz Ahmed Wife, Mirza wrote.
The couple is private on Instagram.
Don't expect to see lovey-dovey posts on either Ahmed or Mirza's Instagram feeds. But we might have spotted a reference to Ahmed in the poetic caption of one of Mirza's posts on the account @ffmirza. Accompanying a photo of a soccer goalpost, Mirza wrote, "We ran wearing baseball caps. Correction: you ran, I wandered. Passed a man with a parrot, bright blue, red plume. All the goals missing nets. A day like any other, but then: the parrot overhead, streak of blue, straight through." Perhaps the "you" is Ahmed. This content is imported from Instagram. You may be able to find the same content in another format, or you may be able to find more information, on their website.
Riz Ahmed Wife, characterized the events of 2020 as "wild, difficult, transformative [and] clarifying" in an Instagram post. She didn't mention her wedding to Ahmed, but we can read between the lines.