With a credit card, you can quickly pay your bills, go shopping, make purchases with no-cost EMIs and earn reward points. However, if you cannot qualify for a credit card due to ineligibility, the NetSpend card is there for you.
NetSpend is a prepaid Visa card that allows you to use after adding funds to your NetSpend account. The highlight of this card is that you don't have to go through a credit check, and the approval chances are very high.
Once you get this card, you only need to activate your NetSpend Visa Card online at www.netspend.com/activate and then start using it for online and offline purchases.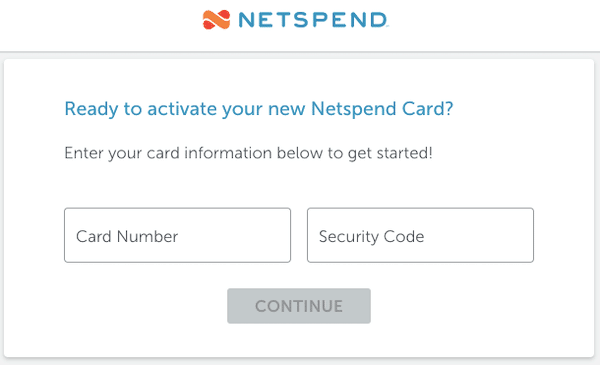 Follow the information below to learn how to apply and activate NetSpend Visa Card.
Complete Guide for www.netspend.com Activation [2023]
There are three ways to activate your new NetSpend card:
Online activation at official netspend.com activates URL.
NetSpend card activation via the Mobile app.
NetSpend activation over the phone.
Activate NetSpend Card at netspend.com/activate
When you apply for NetSpend Visa Card, it generally takes 7 to 10 business days to reach you. You will also get activation instructions along with the card. The steps to activate the card online are provided below.
Go to the NetSpend Activation page – www.netspend.com/activate on a web browser. 
Enter your NetSpend card number and the security code in the provided field and click CONTINUE. 
Sign in to your account (if prompted) on the next screen.
When logged in, complete the further activation and identity verification steps (if any).
After succesful verification, your NetSpend prepaid card will be activated right away.
NetSpend Card Activation via Mobile App
If you cannot activate your NetSpend card through the online process, you can easily activate it using the NetSpend mobile application. 
Install the NetSpend app on your mobile device (iOS or Android).
Tap Activate on the welcome screen.
Next, enter your Card Number and Security Code in the provided field and tap CONTINUE.
If you already have an account, click Login and complete the on-screen instructions.
If you haven't registered for online access, enter your email address, username, & password and set your security question.
Tap Continue and create your PIN on the next screen.
Enter your first name, last name, zip code, date of birth, and social security number in the provided field.
Scroll down to agree to the Cardholder Agreement and Issuing Bank's Privacy Policy, then tap Continue.
You will see a message that Your card is now active.
Tap CONTINUE.
On the next screen, tap Send my code button. 
Enter the verification code in the provided field and tap SUBMIT.
After that, if you wish to receive communications from NetSpend, tap the View E-SIGN DISCLOSURE button and provide your consent.
Then, tap CONTINUE and choose from the ENROL or NOT RIGHT NOW options to accept/decline the AnyTime Alerts feature.
Finally, tap the GO TO ACCOUNT button, and you are done.
Thats it, the Nerspend activation process is now over and you can use your Visa card for paying bills, offile purchases, online shopping, etc.
How to Activate NetSpend Card Over the Phone
If you cannot follow the process mentioned above to activate your NetSpend card, you can call NetSpend customer service at 1-86-NetSpend and follow the on-call prompts to activate your card. Make sure you have the card details handy when you contact NetSpend.
---
How to apply for a New NetSpend Visa Card?
Here are the steps to apply for a NetSpend Visa Card:
Go to www.netspend.com/prepaid-debit on your web browser.
Click Sign Up Now.
Provide your personal information – first name, last name, street address, zip code, and email address.
Choose Your Card from the given options.
Select the following options displayed on your screen under the Direct Deposit section.

Paycheck
Tax Refund
Government benefits
None at this time

Click the GET MY CARD button. (Make sure to click on the Review the Fees Associated With Your Prepaid Card to check the applicable fee.)
After applying successfully, you need to wait for the approval.
Once your NetSpend Prepaid Card is approved and received, you can proceed with the NetSpend activation process at netspend.com/activate.
---
Frequently Asked Questions
How much do I need to pay when applying for a Netspend card?
You don't have to pay for ordering and activating your Netspend card. Instead, when you activate your card, you can choose from various fee plans available. To view the fee plans and other costs applicable for using the card, check NetSpend's fee schedule on their website.
I received my card in the mail. What to do next?
Once you receive your card, you need to activate it. You can go through the Netspend card activation instructions provided in the kit or follow the above-mentioned activation methods.
How many days does it take to get my Netspend card?
It takes approximately 7 to 10 business days once you place your order. However, if it has been more than ten business days, you can call Customer Service at 1-866-387-7363 to know the status.
How can I get a Netspend card?
To get a NetSpend card, fill in the online order form, and your personalized card will be shipped. You don't have to go through any credit check or pay any fees. For card account activation, you will need to provide your name, address, birth date, and other information for identification.