Earlier known as Avant Credit, Avant is an Illinois-based private company in the financial technology industry. Initially, the company was established as a mid-prime lender, issuing personal unsecured loans through its proprietary technology after determining the creditworthiness of an individual.
Currently, Avant is also known for offering a wide range of credit cards to its customers, such as the Avantcard One credit card, Avantcard Reward+ credit card, etc.
If you have recently received a new Avant credit card, you must activate it online at avant.com/activate or over the phone at (855) 752 7011 before making purchases and payments.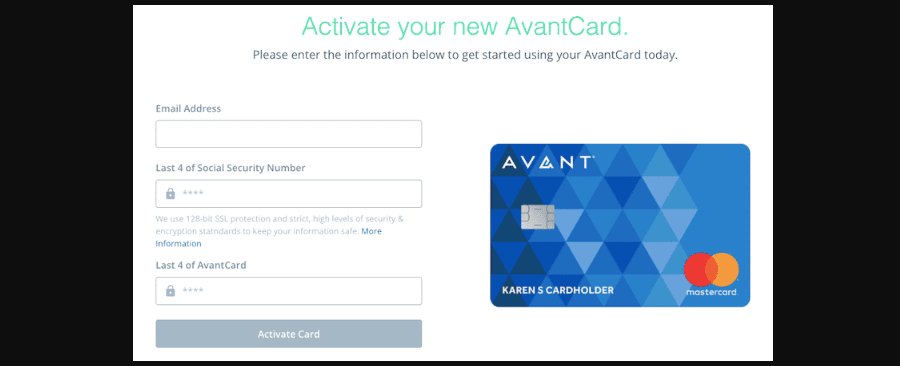 To know how to activate the Avant card online, follow the information provided below.
Complete Guide to Activate your New AvantCard (2023)
There are three ways to activate your new AvantCard.
Activate Online at avant.com/activate
Activate Avant credit card at avant.com/card
AvantCard activation over the phone
Before following the instructions below to activate your Avant credit card, keep your card details ready, as you will need them during the activation process.
Activate AvantCard Online at avant.com/activate
Open a web browser and visit avant.com/activate.
Enter your email address, the last 4-digits of your Social Security Number (SSN), and the Last 4-digits of your Avant Card.
Click on the Activate Card button.
Your Avant Card is now active and ready to use.
Your Avant card dashboard will show additional details and options for your account, such as enabling autopay, paperless statement enrollment, etc.
Steps to Activate AvantCard at avant.com/card
You can activate your Avant card using the steps below if you have already set up your account and have the login credentials handy.
Visit avant.com/card.
Sign in using your email and password.
Next, enter the last 4-digits of your Avant Card and the last 4-digits of your SSN.
Your Avant Card is now activated, and you can use it to make purchases and payments.
How to Activate Avant Card Over the Phone
To activate your Avant Card, call 855 752 7011 and provide the required information. Your AvantCard will be activated right away.
---
Don't Remember Your Account Password?
If you ever forget your Avant card account password, you can reset it by following the steps below.
Go to avant.com/activate.
Click on the Login option provided in the top-right corner of the screen.
Click Don't remember your password? in the Login box.
Enter your email address on file and click the SEND EMAIL button.
You will receive an email from Avant.
Follow the instructions provided in the email message to reset your Avant password.
---
How to Contact Avant?
You can contact Avant customer support if you cannot be able to activate your card at avant.com/activate or reset the Avant account password. To contact Avant customer support for assistance, follow the information suggested below.
Send an email to Avant (Email Form): click here
Credit Card Assistance
Email: [email protected]
Phone Number: 855-752-7012
Timing: Monday to Friday – 07:00 AM-10:00 PM Central | Saturday to Sunday: 07:00 AM–08:00 PM Central
---
Frequently Asked Questions
How can I get my AvantCard credit line increased?
Avant periodically reviews your account to determine whether you are eligible for a credit line increase. However, if you wish to request an increase in your credit line manually, you can apply for it using your self-service dashboard. Also, you can use the Avant mobile app or call 1 855 AVANTCARD.
How to report my lost Avant Card?
To report your lost Avant Card, call Avant support at 1 855 AVANTCARD and press 1. Your card will be blocked immediately to prevent misuse.
How can I get my Avant Card account closed?
You can close your Avant card by calling the Avant card specialist at 1 855 AVANTCARD. However, it is to be noted that there may still be trailing authorizations and payment returns once your account is closed. Also, you will still be accountable for any remaining debit balance on your account.
Is there any annual membership fee for the Avant Card?
Before submitting the Avant Card application form, you can check annual membership fees, APRs, and other pricing conditions. You will also get the rate and fee summary with the card member agreement.